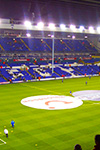 Tottenham - Leicester FA Cup
DOM, 10 JAN 2016, White Hart Lane
Preço desde € 55.40
Informações
* The final match date and kick-off time is confirmed 5-30 days prior to the match day. If in doubt please check the official club website.
* Weekend matches are always played Saturday or Sunday and on rare occations Friday evening.
* Weekday matches are always played on Tuesday, Wednesday or Thursday.
* Changes within above date frames are beyond our control and we ask that you are aware of this when making your travel plans!
* You will NEVER get any single seats. You will always get seats next to your friends, right in front or right behind your friends. This is our guarantee from us to you!
* You will always be seated among home supporters or in a neutral zone.
* When you have completed your booking a booking confirmation/receipt and your e-tickets will be send to your e-mail address immediately.
* All information regarding collection or delivery of your original match tickets will be clearly stated on your e-ticket.
* When collecting the tickets you must show a valid photo ID and proof of purchase by bringing the credit card you used when booking the tickets.
* We highly recommend that you carefully read our terms and conditions for booking football tickets!


Categoria
No 10 Club Lounge North Stand:



-Assentos estofados na categoria inferior, North Stand
-Visão excelente do campo
-Sanduíche gourmet preparado pelo chef antes da partida, acompanha salada
-Servido no lounge do estádio, com design moderno e espaçoso
-Disponibilidade de assentos com mesa
-Bar com pagamento em espécie (bebidas não estão inclusas no pacote)
-Chá/café do intervalo incluso na reserva
-Programa da partida
-Escalação do time
-Abertura 2h antes do início da partida, aberto por 1h após o apito final
-Atmosfera amigável e informal, em ambiente familiar



Lilywhite Lounge West Stand:



-Assentos Premium Executive, West Stand, Lond Side




-Pacote no Lounge LILYWHITE




-Assentos adjacentes, sempre!




-Buffet de sanduíches gourmet elaborados por chef local, servidos com saladas antes da partida




-Acesso direto ao restaurante to estádio, diretamente dos assentos




-Refrescos durante o intervalo (chá/café)




-Jogador veterano do Spurs presente, com oportunidade de fotos e autógrafos




-Progrma da partida na entrada do longe




-Bar com pagamento em espécie (bebidas não estão inclusas no pacote)




-Atmosfera amigável e informal no restaurant




-Ambiente familiar, apropriado para crianças




-Sem código de vestimenta ou vestimenta formal (não é permitido vestir camiseta de time)



Standard Tickets:
-Lugares numa das laterais (bancadas) no estádio / Lugares numa das laterais (bancadas) atrás da baliza no estádio.

Premium Executive Seats, incl. Pre-match buffet:

- Tickets are always at the North West Corner overlooking Spurs home fans in the famous North Bank.
- Includes a Pre-match buffet served 2 hours before the game in one of the stadiums restaurants.
- Matchday programme.
- Tea, coffee and refreshments.
- Cash bar available at half-time and after the game.
- No dress code(except no opposition football shirts), a relaxed atmosphere and families and children are welcome.

Box Seats Long side:

- Fantastic long side seat position, between edge of penalty box and half way line
- Seat location directly above first tier with clear view to pitch and substitutes bench
- Comfortable wide seats, weather protected as seats are behind expansive panoramic glass
- Access to VIP box holders lounge – ex-players often in attendance
- Drinks available to purchase in lounge
- Team sheets distributed to boxes
- Stadium and VIP lounge open 2.5 hours prior to kick off, until one hour after final whistle
- There is no strict dress casual, but no ripped jeans, or away football shirts – home shirts are allowed.
Partidas anteriores
Tottenham vs Leicester FA Cup , DOM, 10 JAN 2016
Tottenham vs Leicester FA Cup , SÁB, 24 JAN 2015