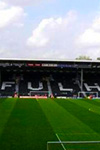 Fulham FC - Parma pre season match
SÁB, 10 AGO 2013, Craven Cottage
Preço de € 36.00
Informações
* The final match date and kick-off time is confirmed 5-30 days prior to the match day. If in doubt please check the official club website. Changes within the date frame are beyond our control and we ask that you are aware of this when making your travel plans!
* You will NEVER get any single seats. You will always get seats next to your friends, right in front or right behind your friends. This is our guarantee from us to you!
* You will always be seated among home supporters or in a neutral zone.
* When you have completed your booking a booking confirmation/receipt and your e-tickets will be send to your e-mail address immediately.
* All information regarding collection or delivery of your original match tickets will be clearly stated on your e-ticket.
* We highly recommend that you carefully read our terms and conditions for booking football tickets!

Below you can read more about the seating and categories available for this football match.
Categoria
POWERED BY TRAVEL CONNECTION

Putney End:


- Arquibancadas Putney End
- setor P1-P7
- setor Putney End do Estádio Craven Cottage
- um dos últimos estádios históricos remanescentes no futebol de Londres
- assentos entre os adeptos neutros
- sítio agradável para famílias e miúdos
Em alguns jogos, estarão disponíveis assentos em locais com "Visão restrita", o que significa que postes, partes da cobertura do estádio, câmaras de vídeo ou demais adeptos podem obstruir parte de sua visão do relvado ou do gol.
Partidas anteriores
Fulham FC vs Parma pre season match, SÁB, 10 AGO 2013